Well, it was about time !!! I couldn't keep it a secret any more. The time has come to give you a shout!
A new blog is launching and me and Deborah are responsible for this! Lily Pad Cards is a new challenge blog (associated with Inlinkz) that will feature interviews, articles, videos, challenges, card swaps, great prizes, and more!
There is no better way to celebrate than a blog hop with top bloggers on the card field!
So welcome to stop #1 in the Lily Pad Cards blog hop! This blog hop starts today and will feature seven blogs per day when it culminates on Friday, April 1, with the grand opening of Lily Pad Cards. You can't even imagine who are participating!!! So hop along with us!
Although Lily Pad doesn't officially bloom until April 1, 2011, you'll be able to see a new sneak peek every day until then. And you'll definitely want to drop by because there are three prize packages with a total retail value of over $800 – including a $100 gift certificate to a very popular online store! Go here for specific prize details and contest rules.
The hop's theme is Welcome because not only are we welcoming Lily Pad Cards to the neighborhood, but we're also welcoming all of you to come in and join in all the fun.
Welcome Lily Pad Cards!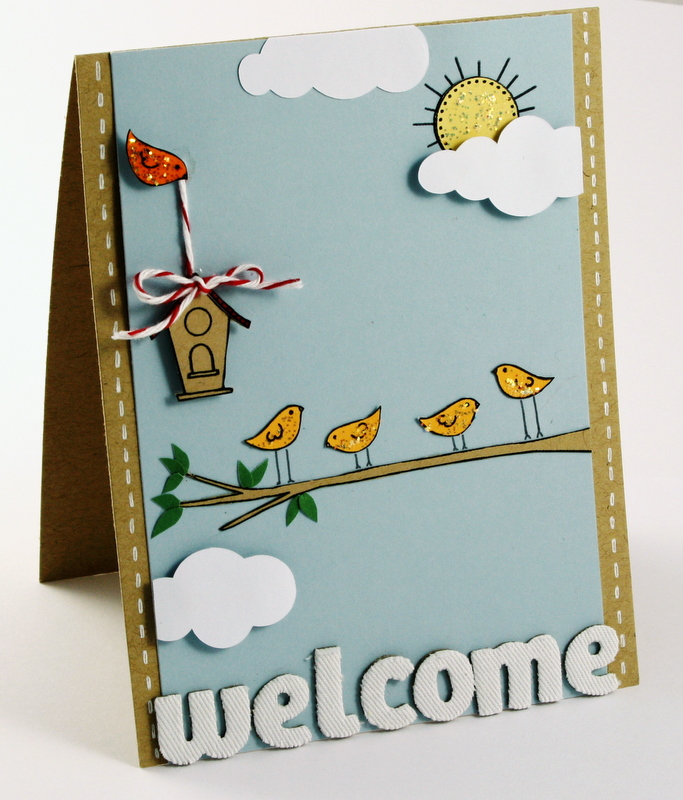 Well, can you see the symbolism of this card? That cute little birdie is our new blog that just moved into the neighborhood! Good Luck Lily Pad!!!
You can enjoy the video and then visit the next stop on the hop Three Umbrellas by the sweet and talented Donna Mikasa.
Thanks for stopping by!
If you hit a bad link, you can always go here and click on the next link in the hop. Please report any bad links to [email protected].
Supplies: