This is my second post for the day. If you want to watch the how-to video click HERE.
Do you find it difficult to list your supplies on your posts? Does it take you forever to switch between browser tabs to find and then link each product individually?
Even when using Link Manager by Inlinkz to create your pool of products? Is it time consuming although you need to link each product once and it's there for you the next time you need it?
Well, not anymore!
Inlinkz has teamed up with SimonSaysStamp and brings you the new and updated Link Manager!
A new tab allows you to work with SSS product database. SSS has thousands of products for you to link up to and they are all available in the LM dashboard. Select the products you used in your project by just dragging and dropping and the LM will generate the code you will paste on your blog. So easy and fast!
And guess what? The service is FREE while in beta phase, so go ahead and try it!
Here is a tutorial on how to use it:
and if you want another how-to video that shows you all the basics here is an older one by our talented friend Kristina Werner:
Giveaway:
We are so proud to be partners with SimonSaysStamp. Is there a better way to celebrate than a giveaway?
REQUIREMENTS:
1. Make a NEW project and post it on your blog/flickr gallery.  Anything goes (cards, altered art, scrapbook layouts… as long as you use Link Manager). You can enter as many times as you wish, as long as you make a new post with link manager for each of your entries. You can combine this post with other challenges, there are no restirctions.
2.List your supplies using LinkManager (go to Inlinkz.com sign up and use the Link Manager tool)
3. Add the badge below into your post and link back here. Help us spread the news!
4. Enter your post  using the Inlinkz tool at the bottom of this post.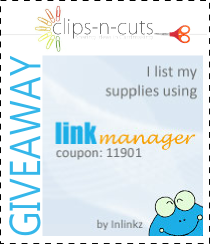 PRIZE: One lucky winner will get a $50 Gift Certificate to SSS and two runner ups will get $25 GC each to SSS.
DEADLINE: The giveaway will last for two weeks (until June,Monday the 18th) . I will post the random winners on June 20.
I know most of you are using LM already and love it, so just go ahead and add the badge on your posts! Help us spread the news!

 If you use LM for the first time or if you are already a user, we would love your feedback, ideas and suggestions! So don't be shy, leave me a comment and let me know.