The new Tonic Craft Kit – Issue 15 ( USA | UK & International ) has been revealed and today I have a fun video for you! We are going to take a close-up look on what's included and I will also share 4 projects using it.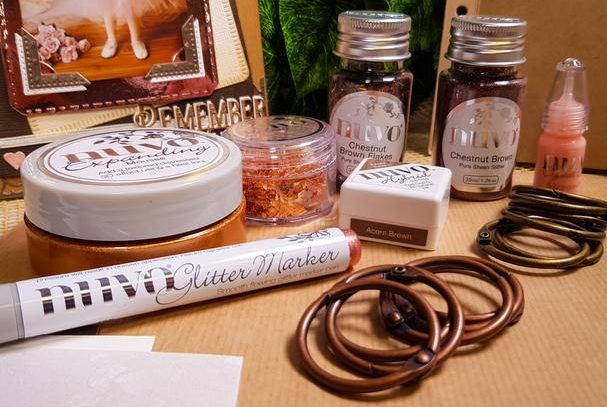 The kit once again is packed with products and I strongly believe that it's one of the best value for money kits out there. It's called "Memento Book Maker" and it's great if you are into album making.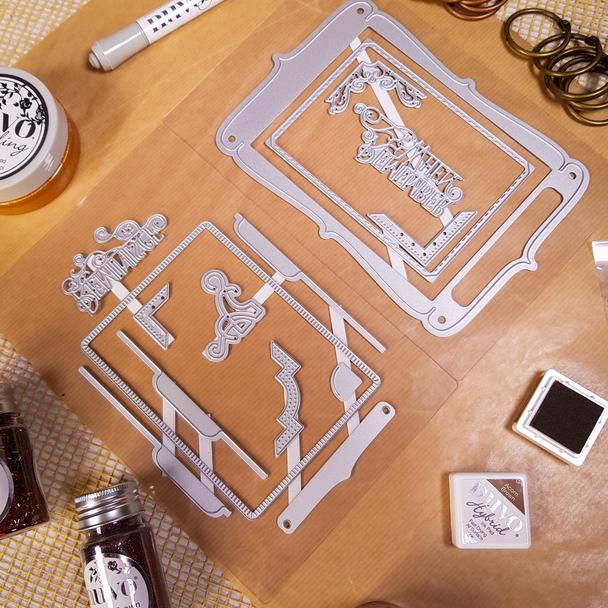 But if you aren't fear not, it's very versatile and today I share 4 cards using products from the kit. And if you are a beginner in album making check the official website since they will be posting tutorials on this kind of projects too.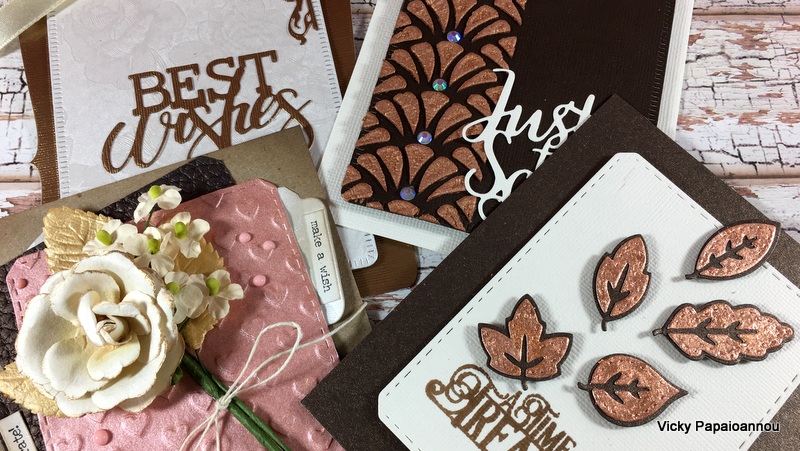 video tutorial
You can enjoy the video below or at my YouTube channel
close-up photos
the shaped wedding card
For my wedding card I combined two of my favorite paper in the kit. I used the die that is meant to create your book/album covers to create a shaped card. I also used the corner dies and some ribbon to embellish my card. The sentiment is not included in the kit but you can use any stamp or die that you have in your stash. I used the Tonic Studios –  Best Wishes Die Set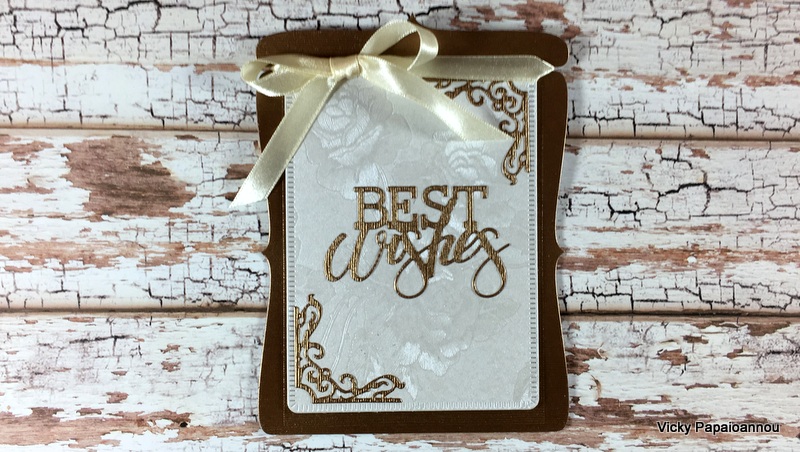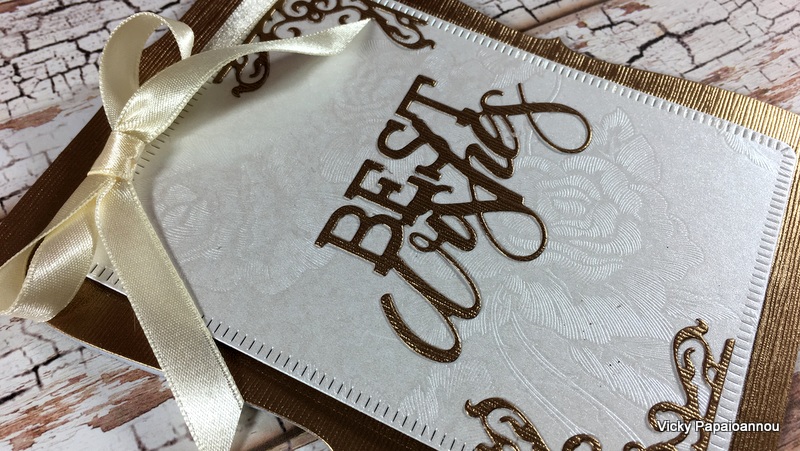 the gilding flakes card
Here is a lovely fall card. I used the papers from the kit as well as the sentiment and the ink pad on this card. I also wanted to demonstrate a way to use the gilding flakes so I created my focal points using it. For this card I used leaf dies from the Tonic Craft kit 12. If you want to check the video tutorial on that kit HERE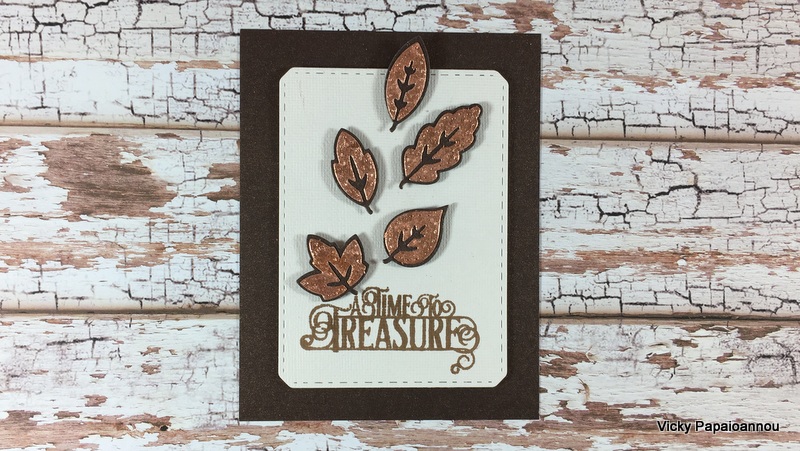 I love the look of the flakes… it's a completely different look that if you use foil sheets. I wish the photo could catch the real shine and color variation on these leaves!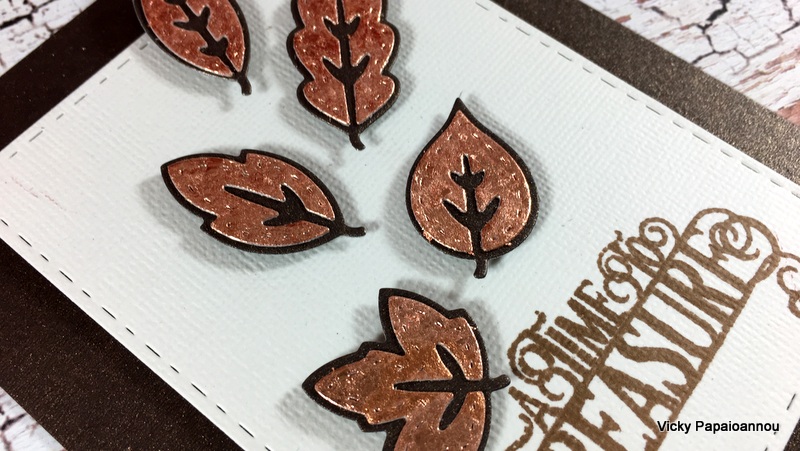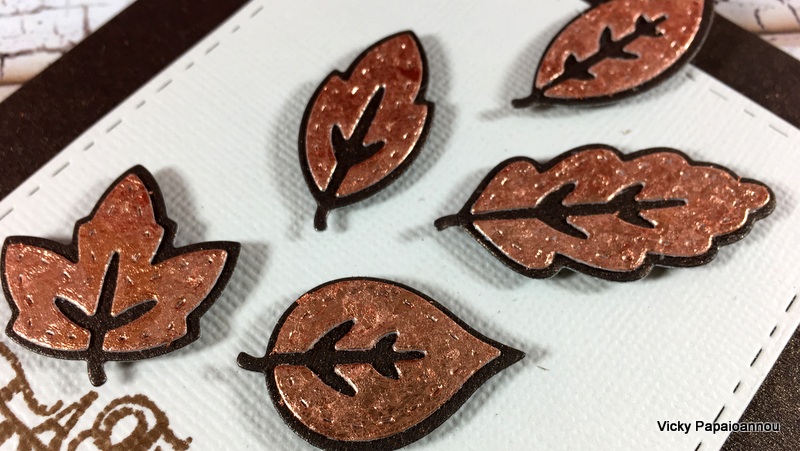 the expanding mousse card
Here is a quick card I pulled together to demonstrate the use of the expanding mousse. Just apply it with a spatula over one of your stencils and heat set it. It will expand and bubble giving you a great texture, which is also perfect for mixed media projects.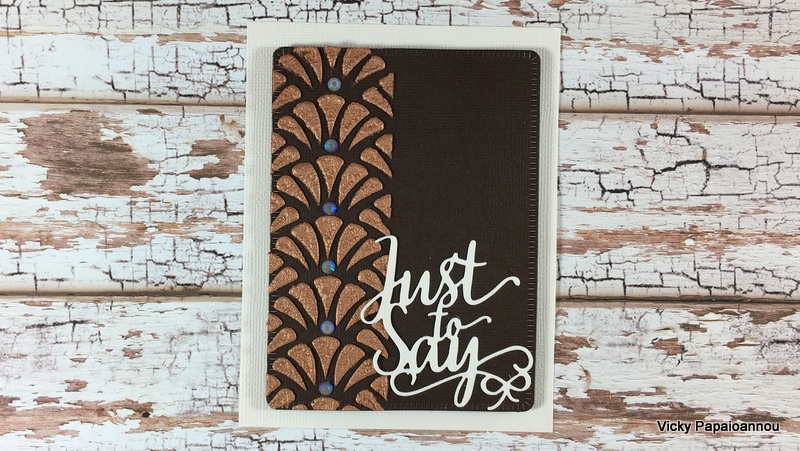 I used the Tonic Studios Stencil – Sun-ray Scallop ( TNCUK ) and the Tonic Studios – Just to Say Die Set ( TNC ) for the sentiment.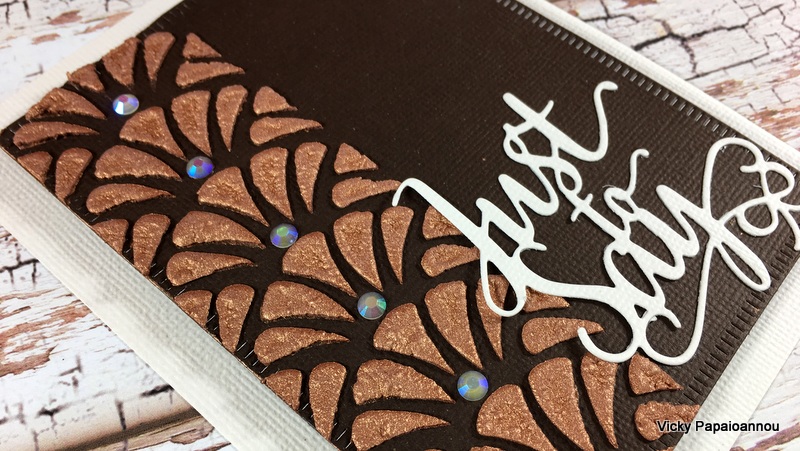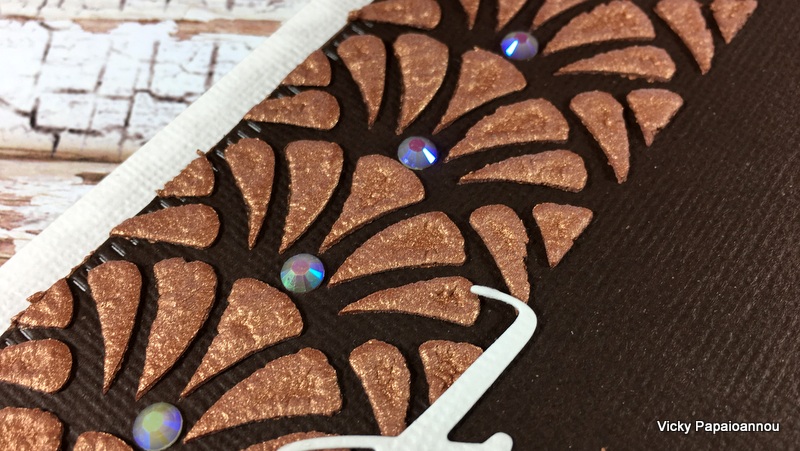 the tabs card
And finally here is a card totally different of the style I normally do. It's great to get outside of our comfort zone once in a while and I absolutely love the outcome. Here I used the 3 tab dies included in the kit to create many panels that I stack one on top of the other.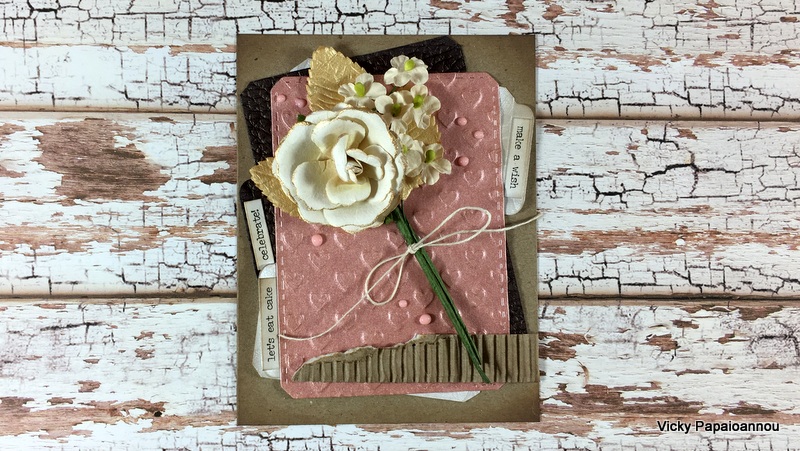 The tabs provide the perfect place to add sentiments, stamp them or use stickers like I did. All tha papers used are from the kit including this gorgeous embossed pink one with the hearts!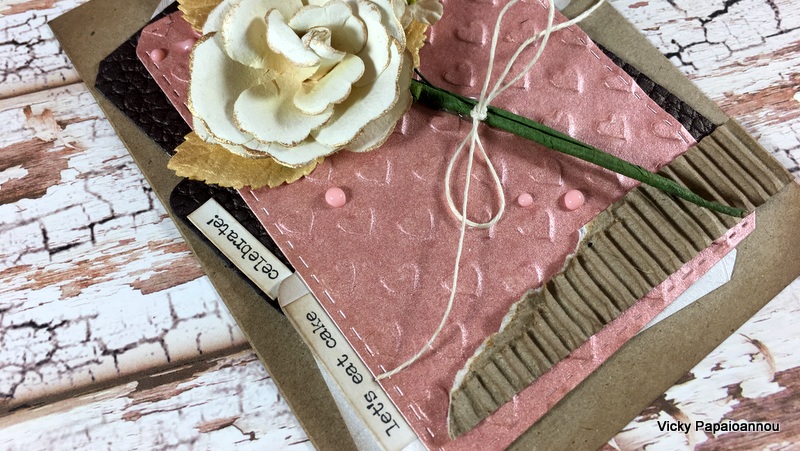 As my focal point I went with dimensional flowers from my stash. These are on sale at the moment and they are from the Prima Amber Moon Collection – Aspen( SBC ). You can always stamp a flower to cut and stick it on top or add any dimensional flower from your stash … or even create one yourself with dies. If you are a regular subscriber of the Tonic Craft kits you should have such dies from kit 5.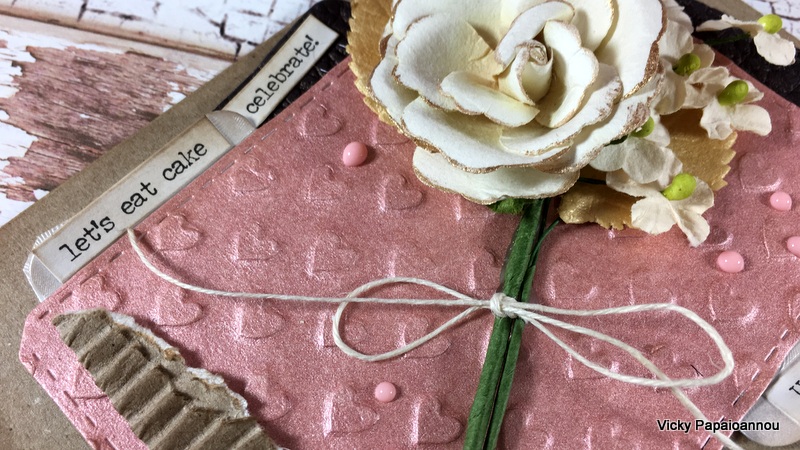 supplies
Below you can find links on where you can order your craft kit and links to individual products. The UK website ships worldwide but if you live in the US there is a US store for you ( USA | UK & International ). Affiliate links used at no extra cost to you.
Tonic Craft Kit – Issue 15 – One Off…

Tonic Craft Kit – Quarterly Subscription

Tonic Craft Kit – Monthly Subscription

Craft Perfect – Luxury Embossed Card…

Craft Perfect – Luxury Embossed Card…

Craft Perfect – Hand Crafted Cotton…

Craft Perfect – Hand Crafted Cotton…

Tonic Studios – Miniature Moments -…

Tonic Studios – Miniature Moments -…

Tonic Studios – Stencils – Sun-ray…

Prima – Amber Moon Collection -…

Nuvo – Gilding Flakes – Sunkissed…

Tonic Studios – Brushes – Mini…

Nuvo – Tools – Dual Ended Blender…

Tonic Studios – Tools – Crafter's…

Tim Holtz – Retractable Craft Pick – 372

Nuvo – Adhesives – Deluxe Adhesive -…

Tonic Studios – Funky Tape Runner – 422e

Sizzix – Glue Gun

Sizzix – Glue Gun Sticks – 8 Inches -…

Tim Holtz – 8.5″ / 22cm Trimmer – 160e

Tim Holtz – Glass Media Mat – 1914e

Be Creative Tape 25MM ROLL Double…